Guatemala Antigua Coffee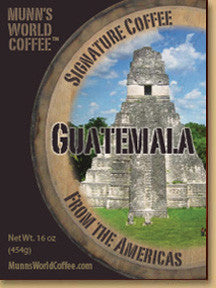 Grown in the Guatemalan coffee district of Antigua in the central highlands, this coffee is aromatic and fragrant with a medium body. Guatemala's own unique smokey flavor is well balanced with the "spicy twist" you may detect in this coffee. Guatemalan coffee is popular in Europe where it is often used in espresso blends.
Your coffee will be freshly roasted the day it ships and sent to you in a heat sealed valve bag. Enjoy!
---
More from this collection